I'm ready for the week!  (Not to EVER be confused with "ready for the weekend to end".  This is going to be a BUSY week for the Dub Family. 
Monday
Chicken Parmesan is on the menu.  I've got everything ready and will do the prep work in the morning after the Bigs leave for school. Monday night is senior night at the high school and we are playing one of the two tough opponents for us this season.  It's going to be a really neat night – so excited that Pootie is a part of it this year.  I promise to tell that story at some point in weeks to come..
Tuesday
Pork Chile Verde.  I'm using some of that left over BBQ that I purchased for the athletic boosters fundraiser.  I've got some corn tortillas, a crunchy slaw and some avocado to go along with (or on) them! 
Wednesday
Smothered steak with rice.  I woke up super early this morning and came downstairs all by myself..snuggled up on the sofa with a blanket, my laptop AND the TV remote and spent some time checking out crock pot recipes.  This one looked easy and good.  There is an away game so I need to be armed and ready when we all get home.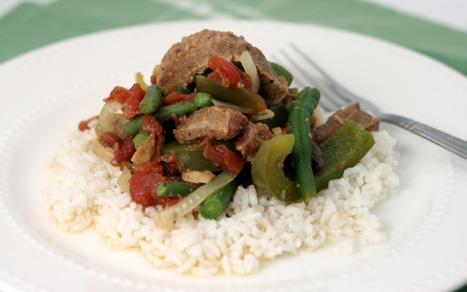 I liked the website name - "Mom's Who Think".  There were a bunch of neat recipes that I tagged for use in the months to come!
Ingredients:
1 1/2 pounds round steak, cut in strips
1/2 teaspoon pepper
2 green peppers, sliced
1 (16 ounce) can tomatoes
3 Tablespoons soy sauce
1/3 cups flour
2 teaspoons salt
1 large onion, sliced
1 (4 oz.) can mushrooms, drained
1 (10 oz.) package frozen green beans
Directions:
1. Put steak strips, flour, salt and pepper in crock pot. Stir well to coat steak. 2. Add remaining ingredients, coating top of steak evenly. 3. Cover and cook on low 7 to 8 hours (high for 4 hours). Serve with rice.
Thursday
Definitely going to be a left over night!!!! 
Friday Night!
So excited about Friday night – we are going to Wingate University for the Athletic Department Clam Bake.  And since we are Wingate Recruiting Class 2015 Parents – they said we should come and start hanging out with the other parents on the soccer team.  CANNOT WAIT.  Yep – already have my outfit all picked out.
Other things ahead for the week
Bubba is getting the first in his series of casts on Tuesday.  He had Botox 2 weeks ago…he handled it like a champ.  He is such a funny kid.  He is loving TK. It was the best decision that I've made.  He is 5 days 9-1 and his teachers freaking ROCK! 
Big things are happening at work and it's very exciting.    More to come on that as well…..we did just hire another gal to work in the office with us and I think it's a great situation.  We can be a bit overwhelming at first but it is fun…even when it's crazy.
Women will appreciate this…I bought a new pair of shoes on Friday.  They rock.  I love shoes.  They make me happy….they are going to be my new everyday fall/winter shoes. 
Oh the Shrimp and Grits recipe from the other day.  OH MY GOSH DELICIOUS and SUPER EASY.  I could eat a pot of those grits right now.